Tandem jump
For beginners, who never skydived before, could be offered a TANDEM JUMP. It is the quickest and easiest way of tasting the free fall from 4000 m.

Before the jump you go through a 15min short preparation with your tandem pilot. No sport-licence neither a club registration is needed.

During the fall you are fastened to the instructor by a safety harness. The exit, the free fall, the parachute opening, and the safe alight is just the instructor´s bussinnes. He is equipped with a special type of parachute which is designed for tandem jumps. The free fall lasts about 50s and the speed is nearly 200km/h. The parachute is opened 1500m above the ground. Next following 6-8 min. fly by parachute. Of course, your jump is recorded by another skydiver so that you get your adventure kept on VHS, DVD or photographs.

The only thing you need is a pair of trainers. The rest will be lended to you right before the jump.
We will jump with a Tandem - Instructor, who got licence in the USA, in the prestige prachute school Relative Workshop Inc.

Is it safe?
- At first, You will jump with a professional, who has number of a thousands jumps.
- Every parachute package has the main and reserve parachute. Reserve parachute has the same shape and size as the main.
- CYPRES is installed into the reserve parachute. Cypres is automatic activation device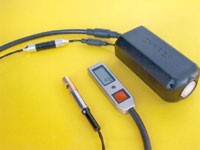 with a computer chip and pyro-cutter. If the Tandem-Instructor is

unable to open parachut, this device to do it on the safe altitude.
- The next equipment is an acoustic and analogue altimeter. The Tandem-Instructor watches current altitude by them and open parachute on the safe level.
If you are already decided to taste this exciting adventure and want to book it or you need more information click here and ask me by email.
Get the unbelievable impression of a free fall from 4000m. In the end you will agree that skydiving is better than orgasm. You will fly like birds and then you understand why birds

sing.
How much is it?
Price per jump: 3500 CZK (125 €)
Price per video + photo: 1700 CZK (65 €)
Where are you jumping?
Call: +420777342986