Accelerated free fall
A modern training program AFF allows you to get abbilities and skills for skydiving within only 9 jumps. The clasic method would demand at least 50 jumps for the same degree. During the training you carry out free fall jumps from 4000m with one or two instructors. Already during the first jump you open your parachute yourself and set down individually. These jumps are preceded by a teoretic part and a ground training.
After performing this program you will be able to carry on the free fall jumps by yourself using a rectangle canopy-type of parachute. You obtain an international free fall licence FAI.
The cost of the course covers, 9 free fall jumps, video from each jump, lending fee for gear (includes parachute, free fall suit+helmet, special gadgets).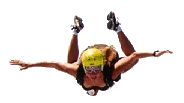 | | |
| --- | --- |
| goal | free fall skills, control of rectangle canopy-type parachute,preparation for individual jumps |
| course time | 4-5days |
| number of jumps | 9 |
| high of jumps | 4000 m |
| way of jumps | free fall jumps with one or two instructors and a videoman |
| parachute type | rectangle canopy type for beginners |
| price | 40.000,- CZK (1500 €) |
| gained licence | international licence FAI |
Continuing course
After finnishing the AFF course, you can keep improving in skydiving. You can choose from a wide range of programmes. For example RW-course training where you will learn the basic skills in cooperation with one or more skydivers during free fall. This will always be the main precondition in skydiving with your friends
| | |
| --- | --- |
| goal | improving of controling body moves during the free fall |
| course time | not set |
| number of jumps | unlimited |
| high of jumps | 4000 m |
| way of jumps | free fall with an instructor and a videoman |
| parachute type | rectangle canopy type for beginners, after more experiences segue to Raven IV,III, PD-230,190.. |
| price | at a negotiable price |
More at: RW-course